The Education Foundation of Palm Beach County's GoTeach! Classroom Grants encourage educators to create innovative and exciting educational opportunities for their students. GoTeach! Classroom Grants focus on these priority areas: Literacy, Career Education, Financial Literacy and STEM (Science, Technology, Engineering and Mathematics).
GoTeach! Classroom Grant funding ranges from $1,000 up to $5,000 depending on the award level. Once the grant application is submitted, it is reviewed by the Education Foundation's Programs & Grants committee, which includes board members and other volunteer community leaders. Classroom grants are awarded in the fall at an awards ceremony, and grantees are required to submit results, photos, and a summary of how the funds were used at the end of the school year.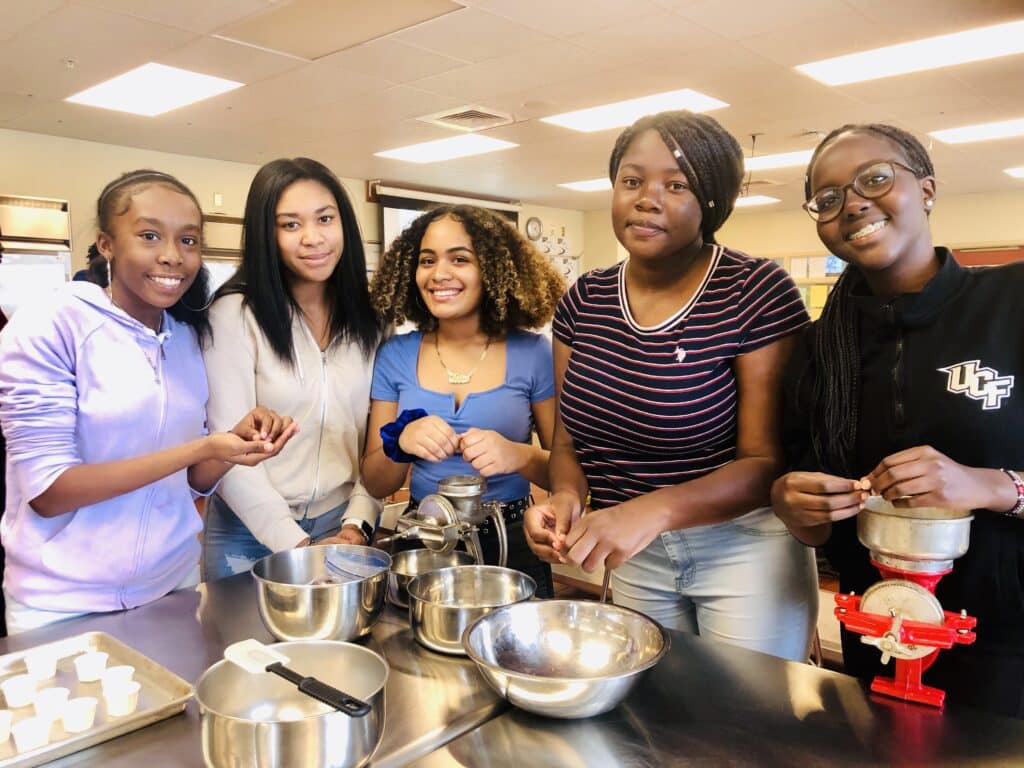 Congratulations to all
2022-2023 GoTeach! Classroom Grant Award Recipients
View the teacher awardees and their grant projects HERE!
Impact of GoTeach! Classroom Grants in the 2022-2023 School Year:
$130,000 in funding awarded to fund 65 grants supporting 800 teachers
50 schools served
15,000+ students impacted
2022-2023 GoTeach! Classroom Grants were funded in partnership with:
Impact of GoTeach! Classroom Grants in the 2021-2022 School Year:
$189,813 in funding awarded to fund 90 grants supporting 1,352 teachers
65 schools served
23,714+ students impacted
77% of students experienced academic improvement/learning gains as a result of program participation
100% of teachers reported having an increase in teacher quality as a result of their grant participation
2023-2024 GoTeach! Classroom Grant Application
Welcome to the 2023-2024 GoTeach! and GoReach! Classroom Grant application process. The Education Foundation of Palm Beach County is pleased to provide direct-to-classroom funding for the School District of Palm Beach County teachers. As the District's philanthropic partner, we support public schools by partnering with private foundations and corporate partners to make strategic program investments so that all students have the opportunity to succeed.
We understand how important these classroom grants are to help fund innovative, engaging, and transformative projects that really make a difference for your students. Thank you for taking the time to apply for this grant, and for your commitment to the success of our school children! The Education Foundation looks forward to continuing as your partner for excellence in public education for Palm Beach County.
There are three levels of awards for the 2023-2024 GoTeach! Classroom Grant Cycle:
GoTeach! Classroom Grant Awards
$1000 grant awards are intended for individual teacher projects
$1500 grant awards are intended for a team of teachers who are seeking to work together to achieve a collaborative project.
GoReach! High Impact Awards
$3000 grant awards are intended for projects that have a higher impact than one classroom. These can be grade-level or school-wide projects.
GoTeach STEM! and GoTeach FINLIT! Innovation Awards
$5000 grant awards intended for individual teacher applicants OR teacher team projects in the subject areas of STEM and Financial Literacy only. 80% of the proposed budget can cover the cost of the program and 20% will be awarded to the teacher or split between a team of teachers who partnered to create and implement the program.
Important Information regarding the 2023-2024 Grant Cycle:
Resources are listed and linked below to help you prepare to submit your application and for planning purposes
GRANT APPLICATION DEADLINE Monday, August 8, 2023
FREE VIRTUAL GRANT WRITING WORKSHOPS AVAILABLE

REGISTER HERE

. These workshops are a way for teachers and administrators to learn general grant writing tips/tricks and information regarding the 2023-2024 GoTeach! Grant Cycle. Participants also received support/feedback regarding their application.
Virtual grant writing workshops will take place from 3:30PM to 5:00PM on May 22, June 14th, and July 10th. 
FUND a GoTeach! Classroom Grant today!
Click Donate Now and mention "GoTeach! Classroom Grants" in the Additional Information/Comments section.
Help fuel more opportunities for students by purchasing a Florida Support Education License Plate. Your purchase contributes $20 to assist students and teachers in our public schools. Your donation, included in the purchase price of the Florida Education license plate, stays right here in our classrooms.
CLICK HERE TO BUY YOUR SUPPORT EDUCATION LICENSE PLATE TODAY!