Red Apple Supplies – A FREE teacher resource store to equip teachers with essential school supplies for their classrooms. Since opening in 2016, Red Apple Supplies has distributed over $5 million in school supplies to Title I schools.
Distributed over $1,300,000 in FREE school supplies to over 58,236 students in Palm Beach County
Served 86 Title I Schools with 83% or higher Free and Reduced Lunch Rate
85% of teachers reported students learned in a more equitable classroom environment, because of support received from Red Apple Supplies
Expanded inventory through STEM, Health, Financial Literacy, and Digital Inclusion sections due to the generosity of community partners.
Red Apple Supplies Mission
The mission of Red Apple Supplies is to serve the educational and creative needs of children in Palm Beach County public schools by providing a means to transfer donated school supplies from businesses, organizations, and individuals free to teachers for use in classrooms throughout the school year.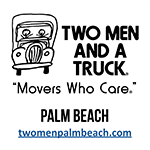 Backpack Initiative Premier Business Community Partner