Celebrating our Heroes for Education During National Volunteer Month
Things may look and feel very different right now, but what hasn't changed is the outsized impact our volunteers continue to have on the students and teachers throughout Palm Beach County.  When you take the lead as a volunteer, you help to change the world through education.
That's why National Volunteer Month is so near and dear to our hearts.  Since 1974, National Volunteer Week (April 18-24, 2021) is an opportunity to recognize the impact of volunteer service and the power of volunteers to tackle society's greatest challenges, to build stronger communities and be a force that transforms the world.
No matter what the world throws at us, our volunteers help to keep our community strong and their efforts are incredible and appreciated. Thank you from the bottom of our hearts!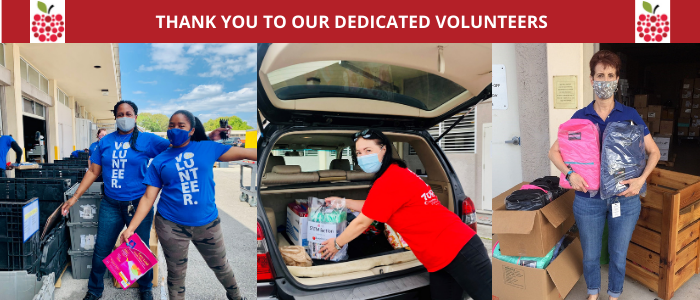 Foundation Board Member Frank Compiani:
Unstoppable
"I believe that all young people today deserve the opportunity to get a good education. My belief is that education is a key ingredient to help lift families out of poverty."
Frank Compiani recently retired from RSM LLP has been an active member of the Education Foundation's Board of Directors for six years.  Frank looks forward to spending more time on the golf course and with his grandchildren in his retirement.  Once traveling is safe, he is ready to explore the world. 
It began in 2015 with a vision and a question.  Why not have a resource store for school supplies where teachers do not have to rely on personal finances to make sure his/her students have the essential tools in order to learn began?   Meredith Trim, Board Member, Innovator and President & Founder of Ventus Charitable Foundation,  brought this concept to life in Red Apple Supplies and now five years later, more than $1.5 million in materials have been distributed to high-needs classrooms throughout The School District of Palm Beach County.
The need for school supplies is greater now more than ever as families continue to adjust during these changing and challenging times.  The Education Foundation of Palm Beach County is passionate about supporting high-quality public education and recently welcomed its 60th partner school with an online teacher orientation so they know how to take advantage of all the incredible resources they have for their classroom.  The Education Foundation team looks forward to the day when Red Apple Supplies will be serving teachers in all Palm Beach County Schools.  
Empower students to learn and equip teachers to teach without worrying about the cost of school supplies.
Program Spotlight
Closing the Achievement Gap with AVID (Advancement via Individual Determination)
Thank you to our partners at Bank of America and the Consortium of Florida Education Foundations for funding this important program that provides training in research-based instructional strategies for hundreds of teachers to prepare students for post-graduate success. Serving 66 School District of Palm Beach County schools and serving over 65,000 students district-wide, the AVID program mission is to close the achievement gap by preparing all students for college readiness and success in a global society. I'Yunni Phillips (check out the video above) is a senior at Glades Central Community High School, and she is one of many AVID program success stories. She has already received acceptances to 11 colleges. Congratulations I'Yunni, we are all so proud of you!
Connecting Kids in the Community through
Digital Inclusion
The Ed Tancer Distinguished Alumni
& Outstanding Community Leader Award Recipients
Congratulations to Distinguished Alumni Award recipients Zack Gottsagen, Graduate of The Dreyfoos School of the Arts Class of 2004 and Brian Ray, Graduate of Palm Beach Gardens High School Class of 1993, along with Outstanding Community Leadership Award recipient Mr. Alexander Dreyfoos.   
The Distinguished Alumni & Leadership Awards discussed the important relationship between business and education, and raised more than $95,000 to support high-quality programs and services provided by the Education Foundation in Palm Beach County that supports more than 164,000 students throughout The School District of Palm Beach County.  Special thanks to our Champions of Education for investing in today's students as they become our future leaders.
The Business Development Board and the Education Foundation of Palm Beach County hosted the 2021 Distinguished Alumni & Leadership Awards virtual presentation on Wednesday, March 10th with almost 200 business, education and community leaders.  This year's presentation was presented by Office Depot.
Invest in your Child's Future with a
Florida Prepaid College Savings Plan
A Florida Prepaid Plan is like the 401k of college savings – a smart, tax-advantaged way to save for their future tuition costs.  Quite simply, a Florida Prepaid Plan is one of the smartest, safest and most affordable ways to save for college today. It allows families to prepay, on a monthly or lump-sum basis, the future cost of college tuition, specified fees and dormitory housing.
Florida Prepaid offers five plans, starting at $45 a month for a newborn.  Anyone who enrolls in a Florida Prepaid Plan before the April 30th deadline with the PROMO CODE PBED2021 will save HALF off enrollment, which is a $25 savings.