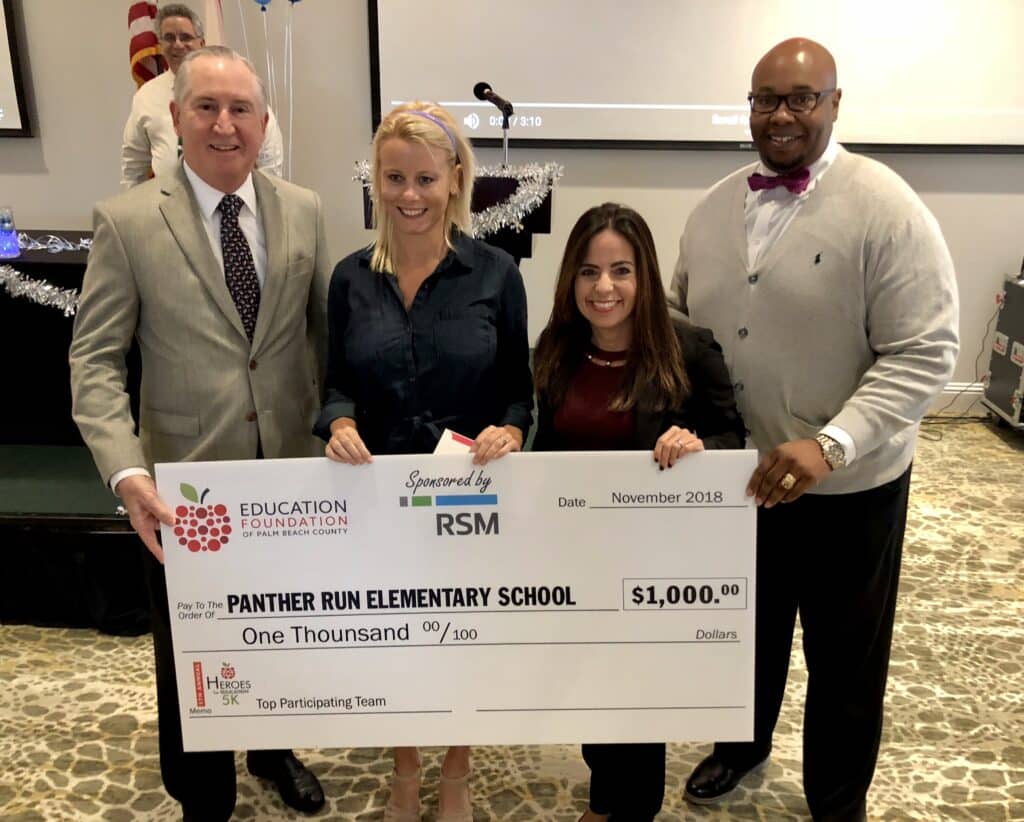 Don't just sit there. Get up and volunteer somewhere. Get yourself on a local non-profit board and do some good in this community! Now do it for a year…and perhaps another year. Maybe even serve a second term as a Board Member and Volunteer. Now you have invested FOUR years into improving the lives of others. Can you double down and serve TWO MORE TERMS? Now you are at eight years. You have certainly put in some time. That is only a fraction of what Frank Compiani has accomplished! For 43 years (yes…you read that correctly… 43 years!!), Frank has been the bedrock of Palm Beach County's Business and Philanthropic Community.
In 1977 "Star Wars" was first released. It snowed in Miami. Apple Computer and Oracle were both incorporated. Jimmy Carter was President. And Frank started to work at RSM. Today, 43 years later, Frank just retired from RSM…but not from his non-profit work! Frank's list of accomplishments defies comprehension:
• Graduate of Leadership Palm Beach County
• Chair of the North Palm Beach Chamber of Commerce
• Chair of the Economic Council of Palm Beach County
• Chair of the Business Development Board of Palm Beach County
• Chair of Communities in Schools
• 2002 Athena Award for Promoting Women in the Workplace
• Outstanding Community Service in 2005 (Henry R. Block National Award)
• Building our Community Award in 2007 (March of Dimes)
• Ultimate CEO in 2008
• Community Leader of the Year in 2009 (North Palm Beach Chamber)
• Excalibur Award from the Sun-Sentinel in 2010
And in between all the above, he still finds time to serve The United Way of Palm Beach County (where he is the current Chairman of the Board) and of course, take an active role on the Board of the Education Foundation of Palm Beach County.
With so much community involvement, one might ask why Frank chooses the Education Foundation for his volunteer and philanthropic work: "I have always been drawn to organizations that deal with kids and education. I grew up in a small tenement apartment in New York City in what I would describe as a lower middle-class neighborhood. I was able to have a great career and, along with a little luck, attribute my successes in life to the fact that my parents valued a good education. They sacrificed so my sister and I could go to college and beyond and I believe that all young people today deserve the opportunity to get a good education. My belief is that education is a key ingredient to help lift families out of poverty."
In 1977 Frank Compiani started making a difference in Palm Beach County. And 11 "Star Wars" movies later, Frank Compiani is still actively engaged in the community. Although retired from RSM, he is still working on behalf of children in Palm Beach County and advocating for public education. Some people just can't be stopped.