Education Foundation to Award
over $116,000
to Palm Beach County Teachers
Education Foundation's Backpack Initiative &
Virtual School Supply Drive
Surpassed $100,000 Goal
As we the new school year progresses, we are confronting so many unknowns.  But two constants remain: The generosity of the people and organizations in Palm Beach County, and our collective commitment to the education of our youth! 
 Backpack Distribution Highlights:
4,370 backpacks and school supplies packed and delivered
$170,230 in school supplies distributed
More than 240 volunteer hours dedicated
Over 400 teachers received materials to support students
On behalf of our entire team, thank you for partnering with the Education Foundation of Palm Beach County and believing in our students, as demonstrated through your generosity and compassion.
Meredith Trim
Recognized for Lifetime Achievement for Philanthropy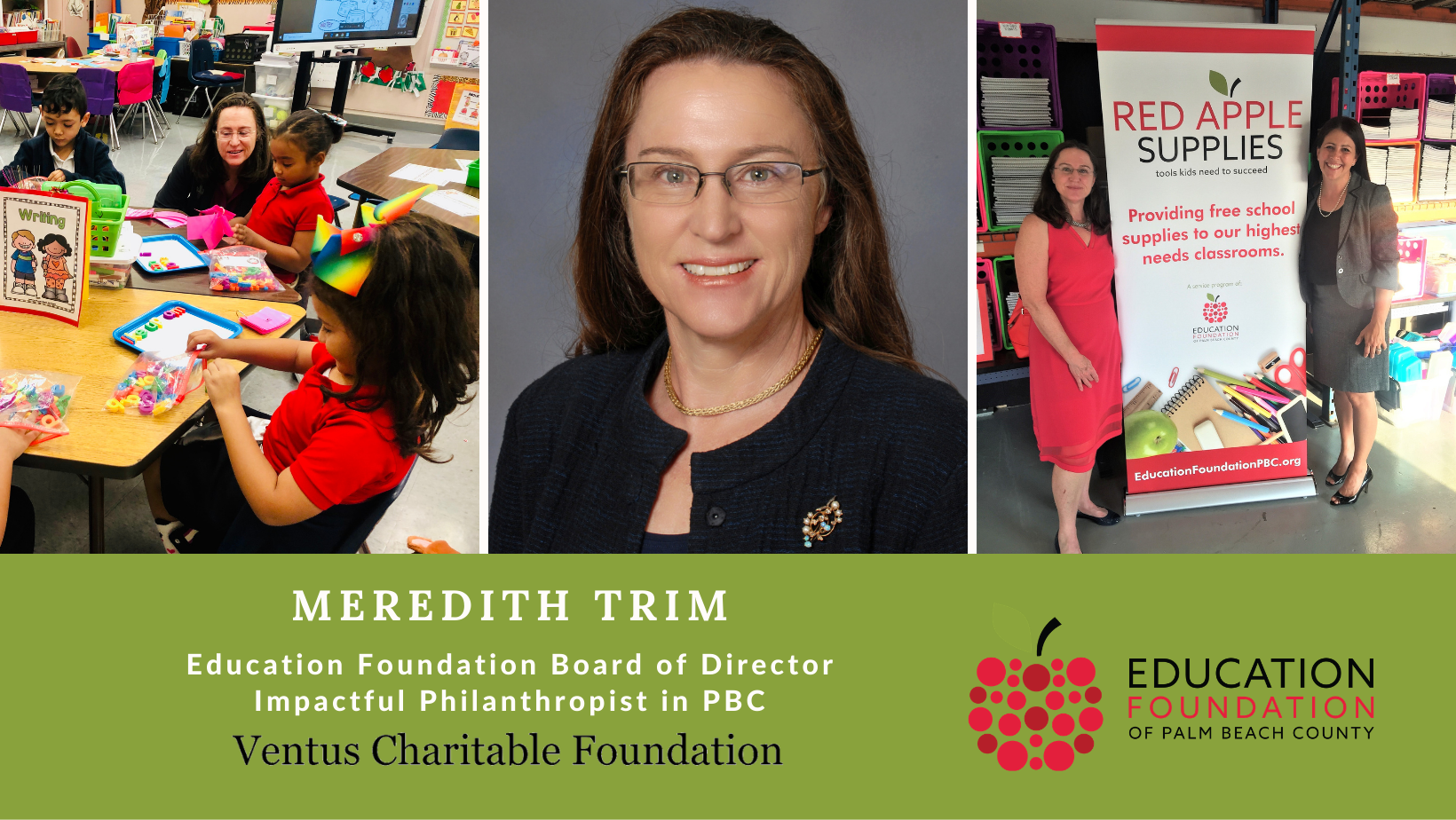 Congratulations to Education Foundation Board of Director and active philanthropist, Meredith Trim, Founder of Ventus Charitable Foundation, as the Girl Scouts of Southeast Florida 2020 Lifetime Achievement Honoree. 
Meredith's impact in Palm Beach County and her passionate dedication to students is unwavering.  Here are just a few ways she has helped to transform lives right here in our community: 
Red Apple Supplies: The vision to equip teachers with FREE school supplies has supported the Foundation in serving teachers and 38,000 students in 53 Title 1 schools through distributing more than $1,000,000 in resources to our highest-needs classrooms since its inception less than five years ago.
Innovation in Educational Programming: Stepping Up STEM in Pahokee helps to create a pipeline of computer programming and robotic course offerings in order to increase skill development and opportunities for students in 6-11th grade impacting approximately 150 students.
Professional Development for Teachers:  Charging Forward with Multi-sensory Strategies consists of research-based multisensory instructional strategies used to improve students' reading proficiency in primary grades including students with language-based learning disabilities and identifying students with characteristics of dyslexia. With over 140 teachers trained and more than 2,500 students served in 12 schools, this program resulted in 81% of Kindergarten and 90% of first grade students demonstrating mastery on their Reading Running record year-end assessments.
On behalf of the Education Foundation of Palm Beach County and the students, teachers and schools positively impacted through her support and passion to make a difference, we share our heartfelt congratulations to Meredith who is so deserving of this honor.  
Education Foundation of Palm Beach County Receives
TD Charitable Foundation Grant
The Education Foundation of Palm Beach County was awarded a grant for the second consecutive year from the TD Charitable Foundation, the charitable giving arm of TD Bank, America's Most Convenient Bank®. The grant contribution will fund the expansion of the Education Foundation's Supporting Teachers to Accelerate Readers' Success (STARS) program. In partnership with the School District of Palm Beach County, this program provides strategic support to ensure focus on building capacity around guided reading instruction with kindergarten and first grade teachers at two pilot schools (Orchard View Elementary and Pine Grove Elementary). By providing professional development that incorporates research-based instructional strategies and specialized resources and classroom materials, this literacy program aligns with one of the School District of Palm Beach County's long-term outcomes to increase the number of students reading on grade level by 3rd grade.
Foundation President/CEO James S. Gavrilos added, Nothing makes a community stronger than the partnership between the business community and the local schools.  We could not be more appreciative of the partnership we have with the TD Charitable Foundation.  Their commitment to public education and early literacy is inspiring.  Our partners at TD Bank and the TD Charitable Foundation truly understand that reading is the foundation of everything else in education.  They and their employees are making a tremendous difference in Palm Beach County.
The Education Foundation will continue to partner with business and community organizations to support the continuum of learning from Pre-K to graduation, ensuring high-quality public education for students throughout Palm Beach County.
A devoted commitment to active involvement in the local community is a vital element of the TD Bank philosophy and the TD Charitable Foundation through its corporate citizenship platform, the TD Ready Commitment, which actively promotes inclusivity, economic vitality, environmental well-being and health and enabling people of all backgrounds to succeed in a rapidly changing world.
"TD understands the critical importance of early learning and that's why we support great partners like the Education Foundation of Palm Beach County and programs that help students in K – 6th grades improve their reading and math skills," said Pablo Pino, South Florida Commercial Market President for TD Bank.  "We are honored to help these students be better prepared for the future."
About the TD Charitable Foundation
The TD Charitable Foundation is the charitable giving arm of TD Bank, America's Most Convenient Bank®, one of the 10 largest commercial banking organizations in the United States. Since its inception in 2002, the Foundation has distributed over $243 million through donations to local nonprofits from Maine to Florida. More information on the TD Charitable Foundation is available at www.tdbank.com/corporate-responsibility/the-ready-commitment/funding-opportunities/
Two Men & A Truck Palm Beach
Friends of the Foundation
When the Education Foundation of Palm Beach County requested the community's support and needed a way to pick up 42 pallets of donated school supplies from our business partner Office Depot, TWO MEN AND A TRUCK ® Palm Beach owners Janelle and Joel Dowley did not hesitate to spring into action and respond to the need.  Read More about this Champion of Education. 
Together, the Education Foundation and its business partners, such as TWO MEN AND A TRUCK ®Palm Beach, are changing the world through Education.   What are your community outreach strategies for 2020 – 2021 that will support your future workforce?  Learn more about becoming a Champion of Education, Contact the Foundation today!
It is a truth universally accepted that a non-profit organization is only as strong as its board.  Much of the success of The Education Foundation of Palm Beach County is directly related to the leadership, dedication and determination of our Board of Directors.  A diverse, unique and pre-eminent cross section of Palm Beach County's business and philanthropic community, the 29 individuals who comprise our Board of Directors are among the strongest advocates and most generous supporters of public education and the work we do. 
Today, we proudly welcome Song + Associates, Inc. to that roster!
We welcome Jorge Fuentes from Song + Associates as our 30th and newest member of our Board of Directors.  An architect who specializes in the design of public schools in Palm Beach County, Mr. Fuentes brings his extensive knowledge of the development and construction industries to our Board.   With his architectural thesis on Post Disaster Architecture, Jorge and his team at Song + Associates is well suited to design schools in a county that is often in the path of nature's destructive powers. 
More importantly, as an immigrant to the Continental United States from a country where, in his own words, "public education needs some improvement", Mr. Fuentes sees the challenges that come with developing a system of quality and inclusivity of all.  Jorge is passionate in his commitment to a strong public education system.   Serving as a Volunteer Mentor in the ACE Program, Jorge is deeply committed to public education and the youth of our community:  Education is the foundation to a great community and a better future for the upcoming generation", said Mr. Jorge Fuentes, and we welcome him to the team.
Florida Chancellor for Public Schools Jacob Oliva, Senator Aaron Bean and Office Depot Named 2020 Outstanding Partners by Consortium of Florida Education Foundations

As a proud member of the Consortium of Florida Education Foundations, we are thrilled to share the great news and honors bestowed upon three incredible leaders in Florida during their recent Partnership Celebration, including our very own Champion of Education Office Depot.  Check out the full press release HERE.
Get to Know #YourEducationFoundation
Staff Highlight: Sam Pasley


"I choose to work for the Education Foundation of Palm Beach County because of my passion for public education.  As a product of the Palm Beach County Schools, as a former teacher and having a wife that is a current teacher, I look for any opportunity I can to give back to education.  Everybody says they look for a job where they have the chance to make a difference. When this opportunity arose, it was something that I could not turn down.  To be a part of an amazing organization that works so well with the community to provide educational resources to those that truly need it, it's a no brainer
Before beginning his accounting career, Sam Pasley, the Foundation's new accountant, previously spent 11 years working in the classroom as an educator with the Palm Beach County School District (PBCSD). In addition to being a former educator, he also coached football, volleyball, and wrestling during his time with the district.  Born and raised in Boynton Beach, Sam is a proud product of the Palm Beach County public school system. 
Sam graduated from Florida State University with a BS in Finance and is currently pursuing a second bachelor's degree in Accounting at Florida Atlantic University. 
When not working or attending classes, Sam enjoys spending time with his wife Kelly, who is an elementary school teacher with PBCSD, and their two children, Sammy and Savannah.
The Education Foundation looks to 2021 to Host the
7th Annual Heroes for Education Run Walk &
Distinguished Alumni & Leadership Awards
As a result of COVID-19, the Education Foundation has made the difficult decision to cancel the 7th Annual Heroes for Education Run Walk, which was originally scheduled for Sunday, November 1st 2020. In addition, and in partnership with, the Business Development Board of Palm Beach County, the Distinguished Alumni & Leadership Awards (previously scheduled on March 19, 2020) has also been canceled. "It is extremely difficult to make a decision like this because while we continue to find ways to bring the community together to highlight our alumni and emphasize health & wellness in these two particular events, we recognize the safety and health of our families comes first. We thank our sponsors for their unwavering commitment to our mission as we continue to pivot during these unprecedented times. We will be back in 2021 stronger than ever," states James S. Gavrilos, President & CEO.