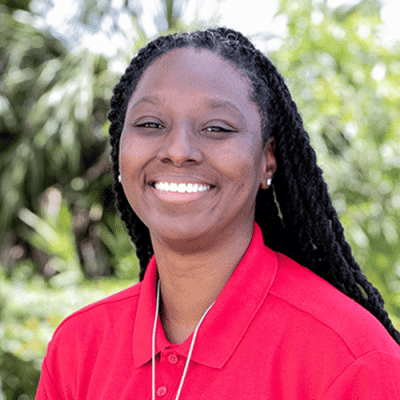 Director of Warehouse Operations, Red Apple Supplies
Tarneisha serves as the Director of Warehouse Operations for the Education Foundation of Palm Beach County's Signature Program, Red Apple Supplies (RAS). As director, she performs various tasks to ensure the organization's objectives for cost savings, warehouse and operational efficiencies advance the organization's mission to provide high-quality public education in Palm Beach County. The Red Apple Supplies program provides FREE school supplies and classroom resources for nearly 4,000 teachers and over 52,000 students in 76 Title I designated partner schools.
Tarneisha is giving back to the county where she grew up. Tarneisha has over 15 years of experience in warehouse and logistics, working for ten years at US Foods warehouse as a receiver, selector, forklift driver, truck builder, and inventory. She was awarded US Food Team Player of the Year in 2017.
A proud alumnus of the School District of Palm Beach County, Tarneisha graduated from Palm Beach Gardens High School in 2001 and received a full scholarship to play basketball for Palm Beach Community College (PBCC). Following her time at PBCC, she earned a Computer Networking Technician Diploma from Florida Career College.
Tarneisha has always been passionate about helping kids and making a difference in the lives of others. She believes working at the Education Foundation of Palm Beach County and serving the students, teachers, and schools within the School District of Palm Beach County allows her to do something she loves. Outside of work, Tarneisha loves spending time with family and friends.