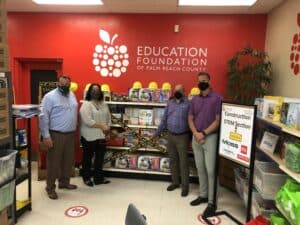 At the heart of the Moss Foundation lies a commitment to fostering educational growth and equity. They firmly believe that education is essential for the betterment of society, and they are dedicated to giving back to the communities where they work, live, and play. Through their support of education, they are not only providing essential resources for students to engage in cutting-edge research and technologies, but they are also helping to develop the future workforce.
One of Moss' core values is the importance of honoring relationships within the community. As such, they are deeply committed to volunteering and participating in numerous events throughout the year, including an annual school drive that has raised over $117,000 to buy school supplies for local schools. They have also established a scholarship at Texas A&M University, demonstrating their dedication to building up communities in meaningful ways.
Two years ago, the Moss Foundation partnered with the Education Foundation to sponsor a STEM section at Red Apple Supplies Store, providing educators at Title I schools with the supplies they need to inspire and empower the next generation. By promoting STEM education and making resources more accessible, the Moss Foundation is investing in the future workforce and helping to ensure that students receive the necessary education and training.
In supporting education initiatives, Moss can complement its construction work with initiatives that directly benefit the end-users of its projects, such as students, teachers, and educational institutions. This not only strengthens their relationships within the community but also ensures that their work positively impacts society as a whole. Ultimately, the Moss Foundation believes that supporting education is a rewarding investment in the future, and they are proud to contribute to this essential cause.