Congratulations to Kelly Smallridge, who was named 2020 Woman of the Year by the North Palm Chamber of Commerce.
A proud PBC "local" and member of the Education Foundation Board of Directors, Kelly has been instrumental in the growth of business and economic development in Palm Beach County during her 32 year career at the Business Development Board of Palm Beach County. She is the longest tenured economic development President in the state of Florida and first female in South Florida.
Kelly and Education Foundation's Chief Engagement Officer, Teresa Dabrowski, were among a total of 25 female community leaders nominated for the prestigious honor that recognized each woman's dedication and commitment to making a difference in our local community. The hybrid event took place on Friday, January 15th at The Wyndham Grand Jupiter at Harbourside Place.
Congratulations to Kelly, Teresa and all the nominees for their outstanding work in Palm Beach County!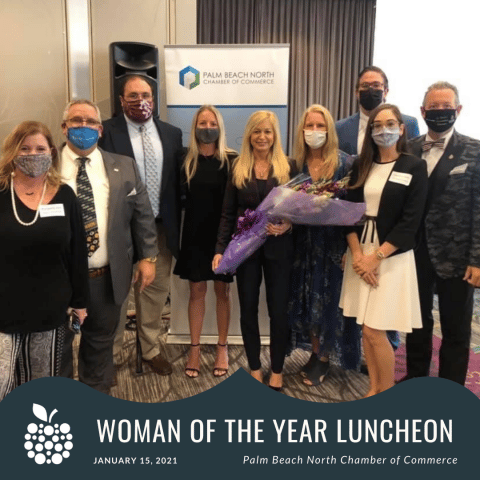 Left to Right: Kimberly Lea, James Gavrilos, Sam Pasley, Teresa Dabrowski, Kelly Smallridge, Catherine Blomeke, Jorge Fuentes, newly elected School Board member Alexandria Ayala and Jim Moore.
2020 Woman of the Year Kelly Smallridge; Nominee Teresa Dabrowski