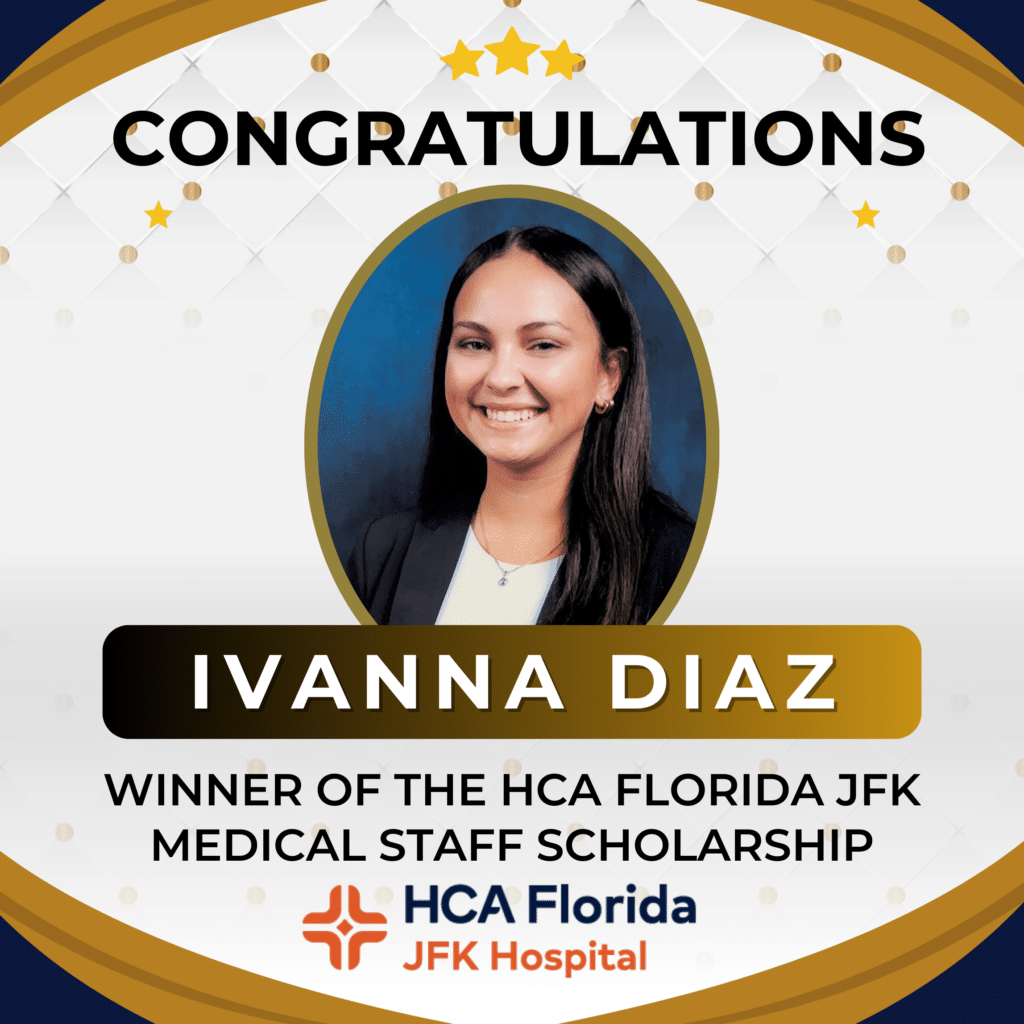 Congratulations, Ivanna Diaz, for being selected as a winner for the 2023 HCA Florida JFK Medical Staff Scholarship.
Ivanna and 14 other students in the School District of Palm Beach County Medical Academies will receive a $1,000 scholarship to pursue their medical dreams after graduation.
In a few weeks, Ivanna Diaz will graduate from West Boca Raton High School with certifications in CMAA- Certified Medical Administrative Assistant, EMR- Emergency Medical Responder, CPT- Certified Phlebotomy Technician, and CET- Certified EKG Technician. She plans to pursue a career as a Pediatrician/Pediatric Surgeon and has been accepted at multiple prestigious universities.
Let's learn a little bit more about Ivanna…
What clinical experience did you have in the medical academy and what skills did you develop from the experience?
I participated in clinical at West Boca Medical Center, Broward Health North- ER, and City of Coral Springs Fire Rescue.
During my time in clinicals, I had the opportunity to improve my observing & initiative skills. Here I got to follow nurses, techs, and even doctors. I assisted in things such as wound cleaning, vital signs, transporting patients, and helping with labs. While talking with the people I followed, I got a closer insight into their day-to-day workday and what inspired them to pursue their careers. I got to observe an endoscopy, a natural birth, a twin c-section, and the daily flow of units like the ICU, NICU, & PACU. I developed a better understanding of patient care. Yes, I learned about medicine and certain skills, but most importantly, I learned how crucial it is to have good bedside manners. This is the chance where you build your relationship with your patient. You are helping them on what can be the worst day of their life, so having a good approach betters that patient-to-provider connection.
During my ride times with the City of Coral Springs Fire Rescue, I got the opportunity to assist & observe a paramedic unit in 12-hour shifts. I got to experience different types of patients and calls.
What experiences have impacted your educational journey or career path?
Being a member of the Pre-Medical Academy at Boca West Community High School has sparked my passion for pursuing a major in the Health Sciences and a minor in Public Health. The pre-medical track engages students in research, clinical experiences, and community service, which I've done and would like to continue doing in the future.
I currently work as a CMAA at a pediatric practice, Personal Care Pediatrics. The medical office opened many doors to learning more about medicine and what it is like to work at an office that sees many patients a day. It's a job that keeps you on your toes! Seeing how the doctors at the office advocate for children's health motivates me to do that as a future doctor. I believe children are the base of future generations, and part of growing up in a safe environment involves having accessible health care.
My goal would be to get an education where I expand my knowledge and teach others. Health advocacy can prevent many diseases, especially in lower-income areas. Pursuing a degree in the health sciences will help me reach my goal of medical school and will help me start an organization that focuses on public health prevention. I am looking forward to furthering my studies in the medical sciences. Knowing I can make an impact in the lives of children motivates me to treat, teach, and advocate for my community.
Describe a challenge you have overcome and how you grew from the experience.
My grandma has been a really influential person in my life. She passed away last year, which impacted my family and me tremendously.  She always told me that all you needed was love and a smile. I now see my life experiences in a new light. I focus on what I have rather than what I don't, and I turn my failures into learning experiences. which turns them into successes. Although she is no longer physically with us her memory always gives me the strength to keep going
Congratulations, Ivanna! We look forward to seeing all that you will accomplish in the future!