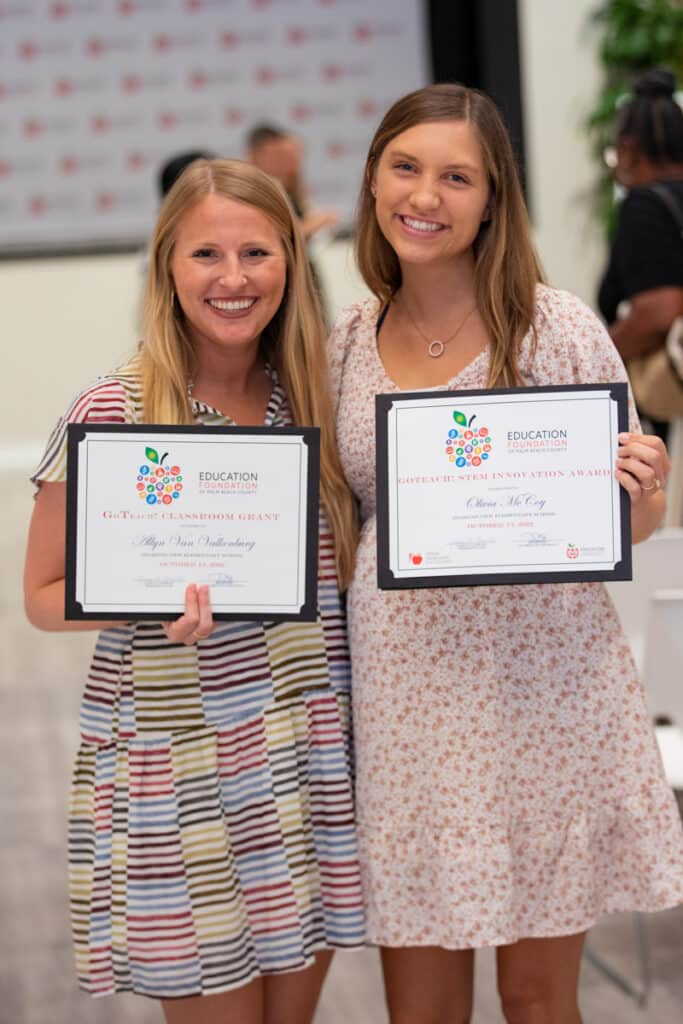 The Education Foundation of Palm Beach County's  GoTeach! Classroom Grants encourage educators to create innovative and exciting educational opportunities for their students. GoTeach! Classroom Grants focus on these priority areas: Literacy, Career Education, Increasing Graduation Rates, Financial Literacy, STEM (Science, Technology, Engineering, and Mathematics), Social Emotional Learning, and support for underperforming students.
CONGRATULATE A TEACHER!
By making a donation of your choice, you have the opportunity to send a message of congratulations to a teacher who has been awarded the prestigious GoTeach! Classroom Grant. This grant will help them inspire their students to love learning and you can be a part of recognizing their efforts.
HERE IS THE LIST OF GRANT RECIPIENTS
GoTeach! Classroom Grant Individual $1,000 Awards
• Alexandra Lehner, Spanish River Community High School

• Chelsey Carr, Lake Worth Middle School

• Chrissy Leffelman & Christina Morrow, Seminole Trails Elementary School

• Courteney Zboyan, Suncoast Community High School

• Cynthia Potter, Glade View Elementary School

• Diana Fernandez, Palm Beach Lake High School

• Diana Tobin, Lake Worth Middle School

• Erica Mardis, Grove Park Elementary School
• Glaribel Piñero-Amaro, Greenacres Elementary School
• Hilary Hosford York, Benoist Farms Elementary School
• Jennifer Tobin, Elbridge Gale Elementary School
• Jordyn Declemente, John I. Leonard High School
• Julie Highsmith, H.L. Johnson Elementary School
• Kendra Williams, S.D. Spady Elementary School
• Kristin Holden, Gove Elementary School
• Martha-Paula McAliley, Poinciana STEM Elementary School
• Marwa Jaber, Westward Elementary School

• Meghan Hess Shamdasar, South Tech Academy

• Micah Hebert, Boynton Beach Community High School

• Natalie Lichtenhal, Morikami Park Elementary School

• Nigel Johnson, Wellington Elementary School

• Sandra Noakes, Meadow Park Elementary School

• Sydnie White, Diamond View Elementary School

• Todd LaVogue, The Conservatory School
GoTeach! Classroom Grants Team $1,500 Awards
• Alane White and Aimee Habegger, Seminole Ridge High School
• Britt Feingold and Brent Bludworth, Lake Worth Community High School
• Cheryl Huey and Kirsten Knowles, Jupiter Middle School
• Danielle Jacobs and Lori Vanis, Pine Jog Elementary School

• Ilyssa Rosken and Karina Constantine, Eagles Landing Middle School

• Michael Matos and Amy Wolf, Coral Sunset Elementary School
• Susan Russo and Nan (Dolores) Smith, Dwight D. Eisenhower K-8
• Tempie Craven and Thyme Salemme, Dr. Joaquin Garcia High School
• Shameka Thomas and Demarco Mott, Riviera Beach Preparatory & Achievement Academy
• Valentina Garcia-Nunes and Jamie Barlett, Palm Beach Maritime Academy
GoReach! High Impact $3,000 Awards
• Alan Geppert, Rolling Green Elementary School
• Alexandra Solomon and Brian Doyle, West Boynton Middle School
• Bernadette Walker-Weems and Thomas Johnson, Roosevelt Middle Magnet School
• Brandi Girtman, Howell L. Watkins Middle School
• Brent Fulmer and Danielle Jacobs, Pine Jog Elementary School
• Cheryl Collier, Jupiter Middle School
• Crystal Merritt, Lighthouse Elementary School
• Danielle Averso, Dr. Joaquin Garcia High School
• Danielle Fairclough, Wellington High School
• David Raffaelli, Royal Palm School
• Elizabeth Bare, Greenacres Elementary School
• Ellen Martin, Sandpiper Shores Elementary School
• Erin Miller, Belvedere Elementary School
• Jennifer Bakakos, Frontier Elementary School
• Jillian Campbell, Royal Palm School
• Julius Edwards and Michael Marrero, Palm Beach Lakes Community High School
• Karina Moran, Jerry Thomas Elementary School
• Kelly Jo Mills, Liberty Park Elementary School
• Laura Stemle, Liberty Park Elementary School
• Lauren Hepworth, Barton Elementary School
• Lindsey Rollin, C.O. Taloy Kirklane Elementary School
• Mary Doda, Pine Jog Elementary School
• Maura Sullivan and Mary Fish, Spanish River Community High School
• Olga Zraouli, Hope Centennial Elementary School
• Pamela Rothman and Heather Trapani, Everglades Elementary School
• Paula Hoskins, Galaxy Elementary School
• Shannon Solis, Village Academy
• Stephanie Velez, Vanessa Gary, and Monica Woodall, Highland Elementary School
• Sydnie White, Diamond View Elementary School
• Veneise Harrell, Riviera Beach Preparatory & Achievement Academy
GoTeach FinLit! Innovation Awards
• Christina Dixon, Congress Middle School
• Jessica Estel, Forest Park Elementary School
• Patrick George, Riviera Beach Preparatory & Achievement Academy
• Timothy Shannon, Jeaga Middle School
GoTeach STEM! Innovation Awards
• Annalise Wellman, Okeeheelee Middle School

• David Sellepack, Palm Beach Youth Academy

• Deanna Jones, Highland Elementary School
• Jaddy Brigitte Nielsen Nino, South Grade Elementary School
• Jennifer Krill, FAU High School
• Jose Garcia-Gosling, John I. Leonard Community High School

• Ryan Jackola, South Tech Academy