Excellence: (Noun) the quality of being outstanding…or very good.
As a CPA, Michael L. Kohner is committed to precision and accuracy. As a business leader in our community, he is committed to excellence. Michael Kohner, Principal in Charge at HBK CPAs & Consultants, as well as a longtime member of the Board of Directions for the Education Foundation of Palm Beach County, takes excellence one step further to include philanthropy. "To demonstrate excellence, you need to be specific about what you are aiming for in a practical and tangible sense. In schools, we can define excellence with a set of values and outcomes that students strive to achieve. These academic achievements include graduation which leads to a prosperous career."
Education had played a significant role in Michael's journey and career path. Michael recognized and maximized his potential while attending high school and credits his teachers and peers as he prepared for his future. Michael Kohner is a proud graduate of The School District of Palm Beach County and member of the Class of 1981 from Boca Raton Community High School. With both a bachelor's master's degree in accounting from the University of Florida, Michael earned several additional professional designations after becoming a CPA, such as a Certified Financial Planner (CFP) and Chartered Advisor in Philanthropy (CAP). He also received the Accredited Estate Planner (AEP) designation awarded by the National Association of Estate Planners & Councils.
His active engagement in college gave him opportunities to share his passion for making a difference through many affiliations within the University of Florida as well as Palm Beach County. Over the years, Michael volunteered his time and talent to many organizations including:
• Advisors for Philanthropic Impact (API) – Co-Founder, President
• Education Foundation of Palm Beach County – 20-year member, Chairman, 2005-2007, Past Executive Committee & current Finance Committee member
• Suncoast High School Foundation – Past President
• Economic Council of Palm Beach County – Treasurer
• Jewish Federation of Palm Beach County – Past Treasurer & Philanthropic Leaders Advisor Network Chairperson
• University of Florida Foundation – Leadership Gifts Committee and Fisher School of Accounting Advisory Board
• School Board of Palm Beach County – Finance Committee member
Michael found success in business as a leader at Arthur Andersen and Andersen Tax (formerly WTAS), and three years ago, launched the West Palm Beach office as Principal in Charge at HBK CPAs & Consultants. Established in 1949, HBK CPAs and Consultants (HBK) offers the collective intelligence of hundreds of professionals in a wide range of tax, accounting, audit, business advisory, financial planning, and other business operational and support services from offices in four states. The principals and employees are all very active and proud to serve their communities.
Philanthropy is in every facet of Michael's everyday interaction. It started at home where he taught his children at a young age the importance of giving back. While in high school, his three children formed a non-profit organization called Bikes for Kidz, providing bicycles to children in need. From watching that experience, Michael co-founded Philanthropy Tank, a non-profit to promote student philanthropy. Philanthropy Tank empowers and inspires the next generation of CHANGEmakers by challenging and equipping students to implement sustainable service-driven solutions to problems impacting our community. He is very active still today.
Michael states, "Early learning and a great K-12 education are keys to great opportunities in life including future economic prosperity for both the students and the local community!" As a result of his commitment to leaving a positive mark in his chosen field of employment and supporting those in need in our community, Michael was honored in 2014 with the prestigious Distinguished Alumni Award, the annual event in partnership between the Education Foundation of Palm Beach County and The Business Development Board of Palm Beach County. "I was deeply honored to have been previously recognized as one of the Distinguished Alumni of Palm Beach County Schools and to be able to give back!"
From the classroom to the boardroom, Michael Kohner set a standard of excellence that he strived to achieve. As a result, the community, as well as Michael, continues to prosper. Excellence…for some, it's a noun. For Michael Kohner, it's a way a life.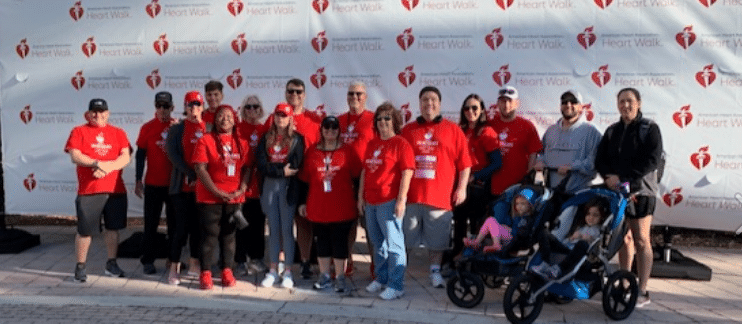 L to R: Michael Kohner: 2014 Distinguished Alumni Award Recipient and Michael Kohner and team supporting the Heart Walk