School Bell November, 2019
 A Message from EFPBC's President/CEO, James Gavrilos: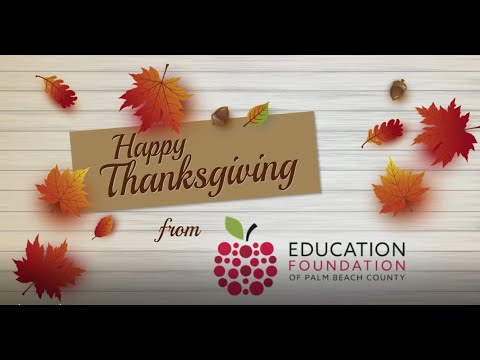 A "Real" Commitment to Public Education…A Legacy from Father to Son
Come to any activity or meeting of the Education Foundation of Palm Beach County and you will likely find Jordan Paul thoroughly engaged.  In addition to his duties as a long-time board member, Jordan also serves on the Finance Committee and the Program and Grants Committee.  When asked why he is so committed to public education, Jordan cites his professional and personal motivations.
Professionally, Jordan and NAI/Merin Hunter Codman are thoroughly committed to corporate social responsibility.  Jordan shared with me that Neil Merin started out years ago assisting the Easter Seals…and has expanded his community involvement as his company grew.  One of Palm Beach County's foremost real estate companies, NAI/Merin Hunter Codman now encourages their employees to become "Real Leaders"…by which each employee is given four paid days a year to volunteer at a local charity!  (PS:  I hope you got the pun…"Real" Leaders…since NAI Merin Hunter Codman is a Real Estate Company!)  Over and above the individual volunteers, as a group, Merin Hunter Codman commits one day a quarter to a local nonprofit.  Our very own Red Apple Supplies has been the recipient of their volunteer energy.
But Jordan Paul has a much deeper, personal and emotional reason for his commitment to public education and the Education Foundation of Palm Beach County.  Born into abject poverty during the depression, his late father, Burton Paul pulled himself up from his meager bootstraps.  A product of the NYC public-school system in the Bronx during the depression, Burton was truly a self-made man, and went to graduate from Princeton AND Stanford…and become a Professor at Penn!  Jordan comments:  "Education is the great equalizer.  Anybody has the opportunity to get an education.  Quality public education gives those in poverty…like my dad…a chance."
When asked what he finds most meaningful in his board work, Jordan didn't hesitate one minute:  "Red Apple Supplies and our GoTeach Grants Program.  I am still amazed at how quickly Red Apple Supplies has gone from an 'idea' to the growth we have seen.  I can still remember driving around Palm Beach County with Meredith Trim, looking for potential sites.   And every year, when I read and score the applications for GoTeach Grants, I am humbled and inspired at how hard our teachers work…and how much they can accomplish with even a small grant."
From a self-made scholar from the Bronx…then passed down to one of our county's most recognizable real estate companies…and now passed down to his own children, who attended and graduated from our public-schools, Jordan Paul embodies the passion and commitment felt by every member of the Education Foundation Board.  His passion and commitment are "real"….and appreciated by all those students whose lives are enriched by his efforts.
 What's Happening at Red Apple Supplies
Volunteering at Red Apple Supplies provides a hands-on way for companies and organizations to connect with each other and to help the public schools in their community. By volunteering, you are directly impacting the lives of the county's highest-needs children and increasing their chance for a brighter future. 
The Education Foundation's Red Apple Supplies Store is thrilled and thankful to have the volunteer support of the CouTOURe Club which is a group of 100+ women committed to building public awareness for the upcoming The Honda Classic.  Founded in 2009, these lovely ladies work hard to build public awareness and community support for children!
We are appreciative of their time and dedication to the Education Foundation's mission through the Honda Classic, which increases charitable contributions for children in our community and The School District of Palm Beach County.
If your company or organization is interested in engaging in a fun and memorable team building exercise through our Red Apple Supplies (RAS) Program, please contact Teresa Dabrowski at Teresa@EducationFoundationPBC.org. 
Thank you to all of our volunteers for their support and engagement with our Palm Beach County Schools. We hope that you will join us at Red Apple Supplies - where we provide the tools that students need to succeed!
Program Spotlight 
The Education Foundation of PBC Receives a Grant from FPL for STEM Teacher Learning 
The Consortium of Florida Education Foundations (CFEF) recently awarded the Education Foundation of Palm Beach County $15,000 for a Florida Power & Light Company (FPL) EmPOWERing STEM Educators grant for a STEM-focused teacher peer-to-peer learning opportunities.
This program will allow the district the opportunity to use a systems-based approach to peer-peer mentoring experiences for teachers in public practice here in Palm Beach County. This special project will impact over 50 K-8 "Teacher Observers" from 17 elementary and middle schools who will each visit 3 different "Teacher Leader" classrooms to observe high-quality standards-based instruction taking place at The Conservatory School at North Palm Beach (TCS). 12 "Teacher Leaders" will be selected who exemplify educational and pedagogical best-practices within their standards-based content areas. TCS is an "A" rated Title 1 school within the county. This school continuously focuses on growing in their instructional practice and improving professional growth through learning communities and collaborative planning.
After visiting teacher leaders' classrooms, teacher observers will engage in a debrief discussion with teacher leaders and key district staff led by the School District's K-12 STEM department. Teacher observers will work during the debrief sessions to develop a conscious competence within their own teaching practice that addresses the Florida Math and Science Standards while building community with their peers.
The goal of the FPL program is to increase teacher knowledge of effective math and science instructional practices that align with Florida Standards through classroom-based, teacher-to-teacher learning of effective instructional strategies.
"FPL is pleased to partner with CFEF to bring the EmPOWERing STEM Educators Program to school districts in Florida. The program will help teachers to improve their knowledge and continue to be the single most important factor to the success of students," said Maureen Wilt, education program manager for FPL. "Supporting our local education system is one of the ways that FPL works with the communities we serve to make Florida an even better place to work and raise a family."
Since 2010, the CFEF has administered hands-on, workplace-based STEM classroom learning experiences to increase student awareness and interest in STEM careers. These projects are managed at the school level through local education foundations that understand the needs and capacity of district schools and teachers and are able to target the funds for largest impact. In 2016 through 2018, the CFEF piloted 15 Peers in Public Practice projects supporting days of observable instruction for K-12 teachers to learn from their highly effective peers in real-world, real-time classroom situations.
As long-time partners with the CFEF, FPL observed the great outcomes from this pilot program and understood the CFEF's capacity to implement impactful projects through their membership.   Together, they developed EmPOWERing STEM Educators to offer this type of professional development specific to math and science teachers throughout FPL's service territory in six initiatives supported in the inaugural year.
"We were overwhelmed with the positive feedback from teachers in the first year of the program," said Mary Chance, president of the CFEF.  "They were encouraged to try new instructional practices with the support of their peers and many developed ongoing supportive relationships with teachers in other schools.   Through this program FPL is demonstrating how much they value Florida's teachers by providing the space and time for them to learn and grow together."
For more information about the statewide program click HERE
About the Consortium of Florida Education Foundations:
The CFEF is the membership organization for Florida's school district-wide local education foundations. Established in 1987, the CFEF maximizes the individual and collective strength of Florida local education foundations to support local partners and schools. The CFEF now has 64 member foundations with 1,100 business and community leaders serving as volunteer board members. Collectively, they raise more than $64 million annually to support students, teachers and schools through a variety of programs. The CFEF has provided nearly $52 million to local education foundations since 2002 through various private- and public-sector partnerships, including the State of Florida School District Education Foundation Matching Grants Program. For more information about the CFEF, visit: www.educationfoundationsfl.org
About Florida Power & Light Company:
Florida Power & Light Company is the third-largest electric utility in the United States, serving nearly 5 million customer accounts or an estimated 10 million+ people across nearly half of the state of Florida. FPL's typical 1,000-kWh residential customer bill is approximately 30 percent lower than the latest national average and among the lowest in the U.S. FPL's service reliability is better than 99.98 percent, and its highly fuel-efficient power plant fleet is one of the cleanest among all utilities nationwide. The company was recognized in 2017 as one of the most trusted U.S. electric utilities by Market Strategies International for the fourth consecutive year. A leading Florida employer with approximately 8,700 employees, FPL is a subsidiary of Juno Beach, Florida-based NextEra Energy, Inc. (NYSE: NEE), a clean energy company widely recognized for its efforts in sustainability, ethics and diversity, and has been ranked No. 1 in the electric and gas utilities industry in Fortune's 2018 list of "World's Most Admired Companies." NextEra Energy is also the parent company of NextEra Energy Resources, LLC, which, together with its affiliated entities, is the world's largest generator of renewable energy from the wind and sun. For more information about NextEra Energy companies, visit these websites: www.NextEraEnergy.com, www.FPL.com, www.NextEraEnergyResources.com. 
Get Your #Support Education License Plate and
Help Drive Our Mission
 Support our students, teachers and schools today - purchase your license plate HERE
Champions Corner
Champions of Education Level: Star Mentor  Keiser University  
The Education Foundation of Palm Beach County has proudly partnered with Keiser University for years because the future of our students is worth it.  
Keiser University has served thousands of students since 1977, and over the years Keiser has grown to include 17 campuses throughout the state of Florida and 100+ programs for undergraduate and graduate studies.  Keiser offers many opportunities with their 'practical, hands-on approach to career-focused education' as students learn the skill sets needed for tomorrow's workforce.  When students receive a strong elementary and secondary school education (which is the goal of the Education Foundation), college becomes an option as the next step in a their educational journey.  That is why Keiser Univeristy is an important partner of the Education Foundation of Palm Beach County. Together, we strive to support student achievement through graduation and beyond!
 Keiser University has been an instrumental supporter of the Heroes for Education 5K and the Distinguished Alumni and Leadership Awards, and they hosted the Foundation's GoTeach! Classroom Grant Awards for the last two years. Kimberly Lea, President of Keiser's West Pam Beach campus, and her team have also logged many volunteer hours for the Foundation.  Kimberly states that "Keiser University is a proud partner of the Education Foundation because both organizations understand the importance of a strong educated community.  We know that teachers make a huge difference in the lives of students, and all efforts to improve teaching and educational programs have dividends that pay off in our community's future." 
Keiser University takes pride in shaping our future leaders with a "student-centered philosophy... and continues to attract students who prefer a more personal learning experience."  The Education Foundation is honored to work with Keiser's talented and committed team as, together, we change the world through education.
 
If your company or organization has a culture of community collaboration and outreach objectives surrounding the education of our youth, consider becoming a Champion of Education, Click HERE, and let's begin the conversation.  Contact Catherine Blomeke at 561-738-2927 or Catherine@EducationFoundationPBC.org. 
Website: https://www.keiser-education.com/
Enjoy New Ways to Connect with #YOUREducationFoundation!
 BE PART OF THE IMPACT & CONTACT US TODAY!
We are excited to announce the launch of our newly redesigned website!  Click HERE to check it out and see what's happening at the Education Foundation of Palm Beach County!
You can also connect with us on Facebook, Instagram, Twitter and LinkedIn  
The Education Foundation of Palm Beach County recently received its second consecutive
4 out of 4-Star Rating from Charity Navigator!