A Message from EFPBC's President/CEO, James Gavrilos: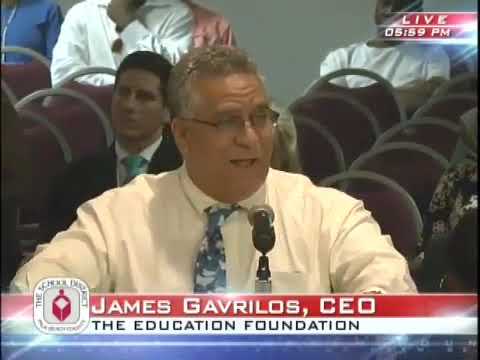 What's Happening at Red Apple Supplies
WE ARE PROUD TO HELP THOSE IN NEED  
In early September, Hurricane Dorian hit the Bahamas as a Category 5 storm, causing immense damage and loss of life. The Education Foundation, together with The School District, launched its Reading, Writing and Relief campaign to raise money for our neighbors in need. School District of Palm Beach County Superintendent, Dr. Donald Fennoy, said:  "I'm proud of how our students and staff rallied together to help the Bahamian people during this time of insurmountable tragedy."
The Education Foundation of Palm Beach County, in partnership with The School District, is proud to announce that, with the help of its schools, families, staff and students, it presented a check for $43,555 to the American Red Cross on September 25th. In addition to making donations on the GoFundMe account, schools answered the call to action and launched fundraisers to support the campaign. Even after the campaign ended, the funds kept rolling in, for a grand total of $53,621 to be donated to the American Red Cross for relief efforts in the Bahamas. 
Since the hurricane, approximately 130 Bahamian children have registered in our Palm Beach County schools, and they have been greeted with open arms. Children are receiving free backpacks stuffed with school supplies from our Red Apple Supplies Program.  Their new backpacks also include age-appropriate books, thanks to the Jewish Federation of Palm Beach County and the Alloy Family Foundation who funded the book donations. 
Program Spotlight
WE ARE PROUD  OF OUR AMAZING TEACHERS!
The Education Foundation of Palm Beach County is proud to have awarded, in partnership with our grant funders, over $110,000 in funding to support 96 GoTeach! Classroom Grants, serving over 140 teachers in over 61 schools, impacting an estimated 23,000 students in the areas of Literacy, STEM, career education and the Arts for the 2019-2020 school year!  
Along with our grant funders, event sponsors, Board of Directors, teachers, principals, School District of Palm Beach County representatives, Florida legislators, and additional supporters of innovative education, we celebrated the commitment of outstanding teachers at this year's GoTeach! Classroom Grant Awards on September 26th at Keiser University's flagship campus.   Keiser University hosted the event which was presented by Office Depot, and it was a night to remember. Our emcee, Office Depot's Alex Price, made everyone feel welcome and appreciated, as recognizing our amazing public-school teachers was the number one priority for the evening.  In addition to this year's new grant recipients, special recognition (and grant funding) was given to the 2019 School District of Palm Beach County's Beginning, Mentor, and Teacher of the Year.  
From "Turtlepalooza" to "Coding for Innovation and Invention", this year's GoTeach! Classroom Grants are amazing and showcase the ingenuity of our teachers.  Students will appreciate the hands-on learning experiences that are awaiting them during this school year.  Special thanks to all of our grant funders, including the Consortium of Florida Education Foundations (CFEF).  It is our privilege to be able to support high-quality public education through these grants.  
Thank you to all of our GoTeach! Classroom Grant Awards event and grant sponsors; this important program wouldn't be possible without your incredible support!
You can find information about the impact from this year's grants in our weekly Facebook feature:  Teaching Tuesdays.  If you are a teacher, begin thinking about your application for 2020-2021 GoTeach! Classroom Grants.  If you are a community member, please be thinking about how you can support to our public school teachers.  Check out our newly redesigned website to learn more about opportunities to partner with #YOUREdcuationFoundation.
Get Your 'Support Education' License Plate

For $25, you can support #YOUREducationFoundation and sport this newly redesigned license plate on your vehicle. Funds from the sale/renewal of this specialty plate remain here in Palm Beach County and are used for Education Foundation programs, such as GoTeach! Classroom Grants which give teachers the necessary funds to bring their innovative ideas alive in the classroom!  Support our teachers and students today - purchase your license plate HERE.
Champions Corner
Champions of Education Level:  Leading Educator  Coca-Cola Beverages Florida  
The Education Foundation of Palm Beach County proudly welcomes Coca-Cola Beverages Florida as a new Champion of Education!  They have begun in a strong way by giving of their time, talent and treasure!  Their support and sponsorship is exciting to us, and we are appreciative of this amazing new relationship.  We look forward to getting to know them better!
 "Coca-Coca Beverages Florida, LLC (Coke Florida) is committed to the communities where we live, work and play. As a family-owned, local, independent bottler, we serve more than 18 million consumers in the 47 Florida counties we operate in. Being local and supporting local efforts is a priority. Our community focus areas are Sustainability, Education and Economic Empowerment. Coke Florida believes that Education is the key to fully unlocking a person's true potential. We are committed to helping those in our communities obtain the tools and resources they need to achieve personal success," explains Bernie Roy, Coke Florida Territory General Manager. 
He continues, "This is why we are excited to partner with the Education Foundation Palm Beach County. Through the foundation (in the 2018-2019 school year), in 45 GoTeach! classroom grant awards that were available, 31 Title 1 schools were served, and over $270K in free school supplies were provided to teachers from Title 1 schools via Red Apple Supplies". In addition to supporting these key initiatives, Coke Florida will provide financial and volunteer support. Bernie comments, "this partnership is valuable to us at Coke Florida, because it allows us to invest in our local community and to help meet the needs of those we serve in Palm Beach County".  
If your company has a culture of community collaboration and outreach objectives surrounding the education of our youth, consider becoming a Champion of Education, Click HERE, and let's begin the conversation.  Contact Catherine Blomeke at 561-738-2927 or Catherine@EducationFoundationPBC.org 
Click HERE to learn more about Coca Cola Beverages Florida.
Upcoming Event 
You're just in time to join us for the 6th Annual Heroes for Education 5K Run/Walk at Bryant Park on
Saturday, November 2nd!
Get all the details to participate as a runner/walker/volunteer/supporter/sponsor HERE. We hope to see you there on November 2nd to support our local public schools!