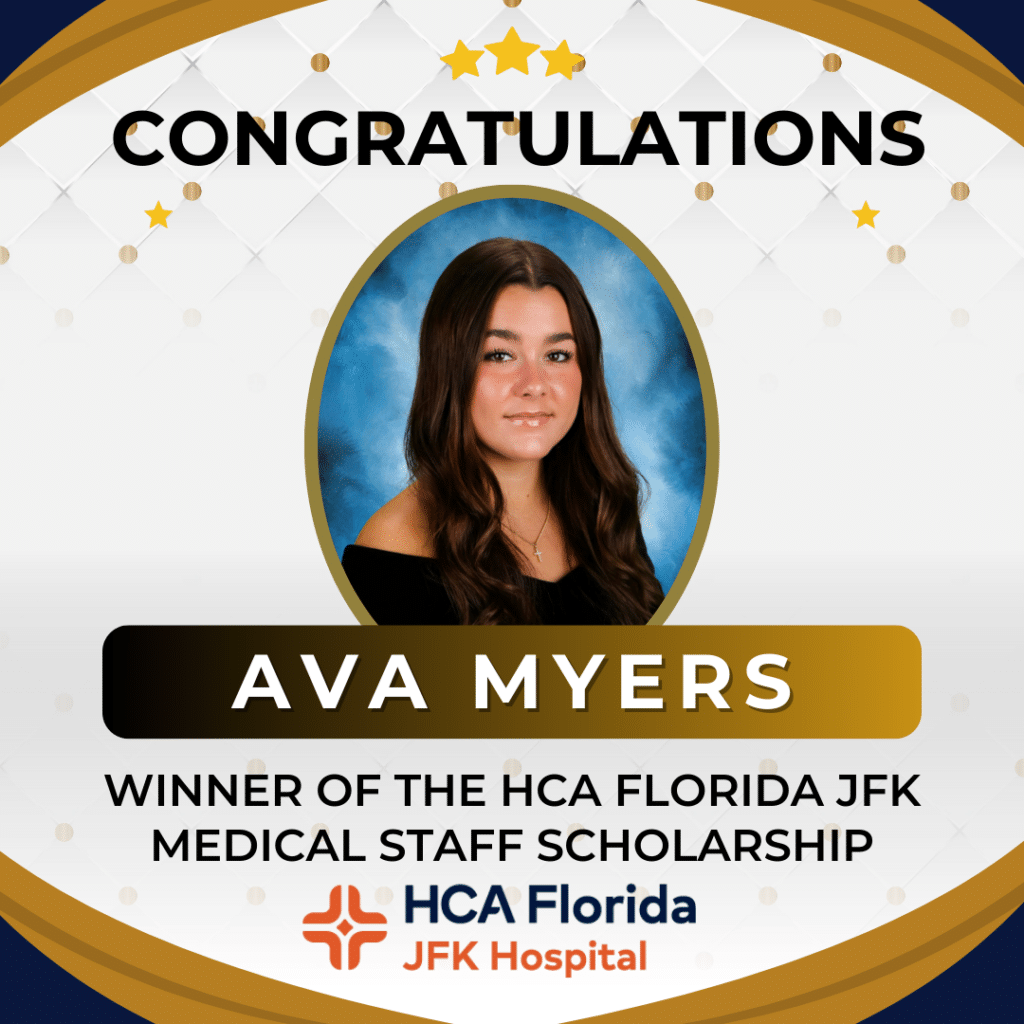 Congratulations, Ava Myers, for being selected as a winner for the 2023 HCA Florida JFK Medical Staff Scholarship.
Ava and 14 other students in the School District of Palm Beach County Medical Academies will receive a $1,000 scholarship to pursue their medical dreams after graduation.
In a few weeks, Ava Myers will graduate from Park Vista Community High School with certifications in CPR and Phlebotomy. She plans to pursue a career in the dental field and has been accepted at multiple prestigious universities.
Let's learn a little bit more about Ava…
What clinical experience did you have in the medical academy and what skills did you develop from the experience?
I participated in clinical at Pet Calls Veterinary Center, Shamaskin Pediatrics, Max Planck Neuroscience Institute, and Caretaking.
Going on clinicals has allowed me to experience the medical field firsthand and how much work and dedication is required. During my clinical experiences, I worked alongside extremely talented doctors and educators, where I learned about what healthcare entails and skills such as communication with patients, diagnostics, analysis, concentration, etc. Over time, I have been exposed to what my future will look like and what I should be expecting. Overall, the most beneficial part of going through clinicals was that I have expanded and cemented my knowledge of things I already know and am getting ready to learn in the future!
What experiences have impacted your educational journey or career path?
I have had the opportunity to receive my CPR certification via the American Heart Association through my medical academy. This has impacted my educational journey and career path because the medical field is a path that I have been interested in since freshman year. In the future, I want to continue my career in the medical field and having a CPR certification was the step in the right direction for me. In addition, with my CPR certification, I have gained the confidence to perform CPR, and I now know that I can help someone who needs help and possibly save their life.
Describe a challenge you have overcome and how you grew from the experience.
Being a Cobra Ambassador is an opportunity for upperclassmen to assume a leadership role, representing the school's culture and academic atmosphere for the next generation. Most important, the ambassadors are/were a wellspring of knowledge and relief for incoming freshmen, providing helpful tips, guidance, assurance, and, perhaps most importantly, peace of mind with a friendly smile. I'll always remember my Cobra Ambassador, Hailey, who alleviated my inflated concerns and fears almost immediately as the tour began, making me and the rest of our group feel welcome and providing us with a safe space to start adjusting to the high school environment.
When the opportunity to join the Cobra Ambassador program emerged as a senior, I knew it was something I just had to do because I knew I d do it well. As a Cobra Ambassador, I would now become a familiar face and friend/peer to students who were nervous and intimidated, just like I was years earlier. I d come full circle. During my time as a Cobra Ambassador, I took special notice of an incoming freshman, who stayed to himself during the group sessions and was very quiet, timid, and appeared extremely nervous. I saw part of myself in him, reminding me of how anxious I was coming into high school. I was instantly drawn to him and felt I had to become a mentor, someone he could look up to, a friend who would make him feel welcome and comfortable in this scary environment. Throughout the orientation, he expressed his feelings about entering high school. I shared my personal story to provide him with relief, as well as a positive outlook on the high school experience. My heart was full when he contacted me on the first day of school, asking me to help him navigate his schedule. Later that day, I realized the personal growth within myself I had come so far over the years. I was able to get to a point where I could now help others in the same position I was facing. I could assume a leadership position to help other students. As I prepare to attend college, I m not scared of the looming proposition. Will it be a huge change? Yes. Might it be difficult at times? Of course. Regardless of what happens, I have the tools to push past those feelings of doom and gloom.
Congratulations, Ava! We look forward to seeing all that you will accomplish in the future!